What is the USC Colorguard?
The USC Colorguard is a group of girls who perform regularly with the marching band. We perform flag and dance routines during halftime at football games. We also perform during the pregame show. We do four different shows per season. The halftime shows for the 2003-2004 season were a DCI tribute, Styx, a Southern Gospel/Dixieland tribute, and the annual patriotic/military recognition. Thanks to Kat, Kim, Nikki, Kasey, Michelle, Sabrina, Megan, Miranda, and Misti for writing the work for the this year's shows.
The guard performs at all home games, and also certain away games. As a part of the band, the guard also goes on any trip to a bowl game. In both 2000 and 2001, we went to the Outback Bowl in Tampa, Florida.
This year members of the colorguard also participated in Dance Marathon, a 24-hour event to raise money for Palmetto Children's Hospital in Columbia.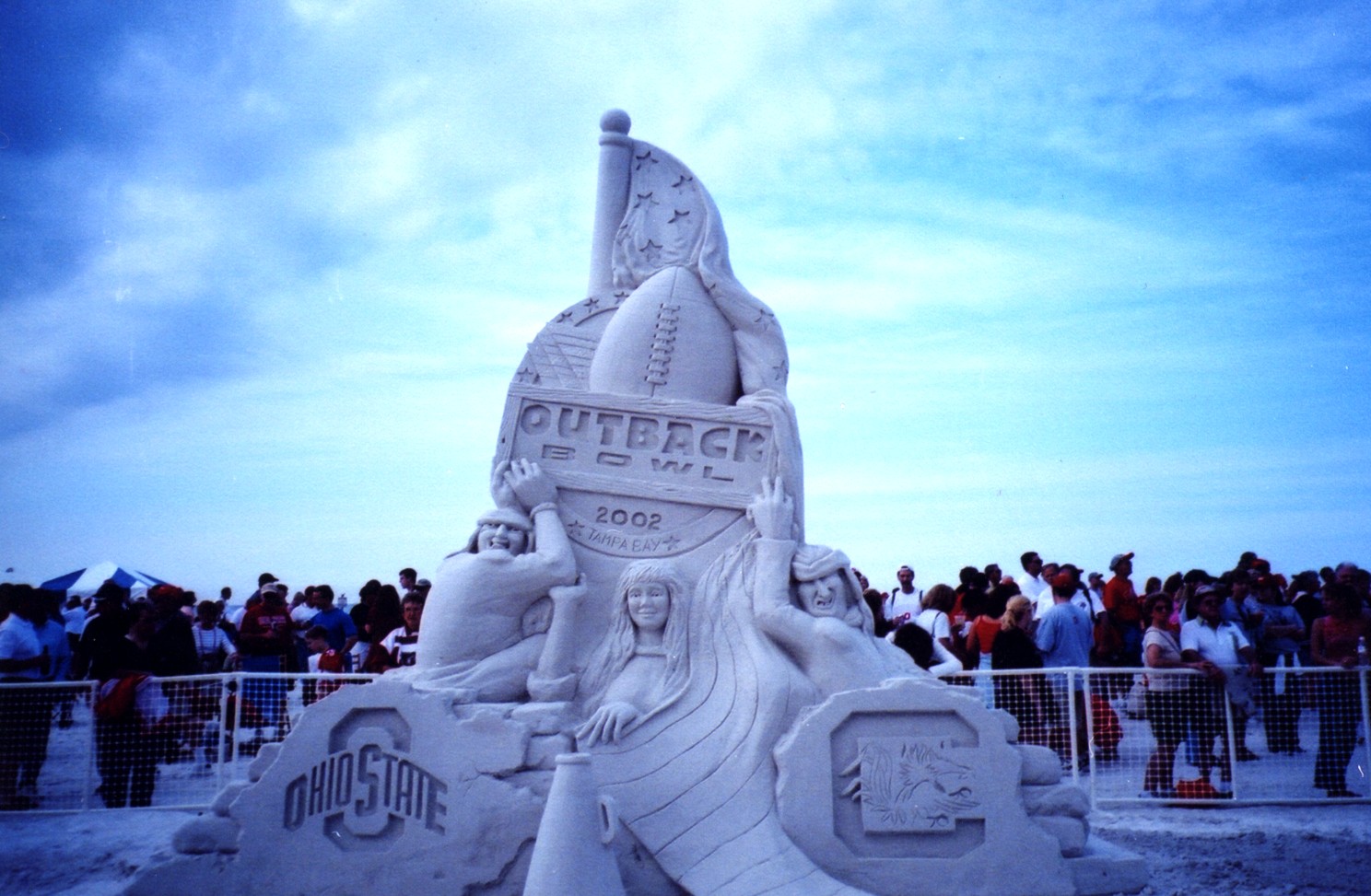 The sand sculpture for the 2001 Outback Bowl: Ohio State vs. USC



Why Do We Exist?
We exist for two reasons. First, to provide good visual effects for the marching band. Second, to support the University of South Carolina football team.
GO GAMECOCKS!
GO GAMECOCKS!
GO GAMECOCKS!
GO GAMECOCKS!
GO GAMECOCKS!



The People Who Make Us Who We Are
James K. Copenhaver, director of bands at USC
David A. O'Shields, associate director of bands at USC
Traci Hair, band secretary
Kathryn Floor, guard coordinator
Nikki Huddle, guard captain
Ann Waters, guard captain
Laura Aboyan, rank leader, webmistress
Jaziya Cortes, rank leader
2002-2003 captain, Kathryn Floor catches a toss.